The second type of available IP range for order is "Static Route" IP range. Unlike "Gateway" type IP range, "Static Route" IP range does not utilize 3 IP addresses from the range for the purposes of: network, gateway and broadcast. This means that by ordering /29 (8 IP addresses) you are fully able to use all 8 IP for application purposes. This is due to a different nature of IP routing regarding "Static Route" IP range.
Example:
We have 203.0.113.0/29 additional "Static Route" IP range (8 IP addresses). This is how IP address usage would be configured:
203.0.113.0, 203.0.113.1, 203.0.113.2, 203.0.113.3, 203.0.113.4, 203.0.113.5, 203.0.113.6, 203.0.113.7 – Host IP (usable on system)
As it was mentioned above "Static Route" uses a different routing principle. Instead of dedicating IP addresses from its own IP range for routing it utilizes routing through server's "Dedicated IP". This works by Cherry Servers creating static routes on network equipment for forwarding traffic meant for additional IP range through client's specified "Dedicated IP" (hence the name of IP range "Static Route IP range").
Illustrative example: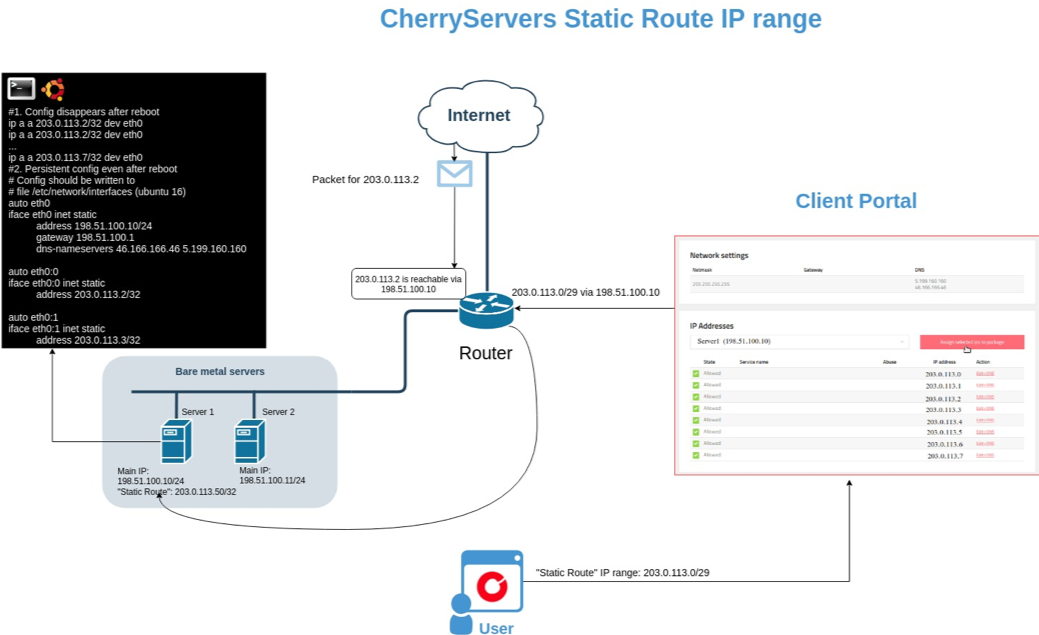 As this example shows, "Static Route" IP range depends on "Dedicated IP address" of server.